33nd Annual

2018

Rotary Oyster Roast & Seafood Bash
This year's Rotary Oyster Roast & Seafood Bash will be held on March 10th, 2018
Event Location & Details
Greenwood Farmers Market
(off Hwy 72, behind old Civic Center)
4 - 8 pm, $40 per ticket
Live music, door prizes, & good fun!
Menu includes steamed oysters, friend seafoods, chicken, variety of sides, chili, and drinks.
Beer will be sold per cup (will require a ticket purchase - CASH ONLY)
Ticket sales end February 27th, 2018
Coolers, offsite food and drinks prohibited.
ORGANIZATIONS SUPPORTED IN THE PAST INCLUDE
Greenwood Projects & Charities
Boy Scouts
Rotary Trail
United Center Community Workroom
Bus for Diabetes Camp and Wellness Kids
Rotary Field - YMCA
Connie Maxwell
The Salvation Army
Upper Savannah Regional Education Center
Flag pole in Cambridge Park
Angel Flight
Boys State
Greenwood County Library
Greenwood Lander Performing Arts
Hospice
Child's Place
Rotaract Club at Lander
Rotary Youth Leadership (RYLA)
YMCA Scholarships
Lander University & Piedmont Technical College Scholarships
International Projects & Charities
Water Wells in Honduras
School Rooms in Honduras
Toilets in Honduras
Kabul Afghanistan Project
Polio Eradication
Wheel Chair Foundation
Shelter Box for Haiti

Checkout will be carried out by PayPal. A PayPal account will NOT be required to purchase tickets. When you arrive at PayPal and click "Proceed to checkout", on the next page you will see an option on the left: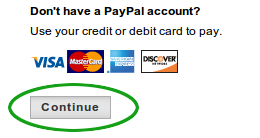 During the checkout process, clicking the "Continue" button will allow you to pay for your tickets without a PayPal account.
When checking out, please be sure to adjust the Quantities where applicable.
Orders
Name of the Rotary member that referred you :
MARCH 10TH 2018
OYSTER ROAST TICKET(S)
@ $40.00
ROTARY MEMBER DUES
@ $110.00
SUSTAINING MEMBER
@ $25.00
MISC. SALES